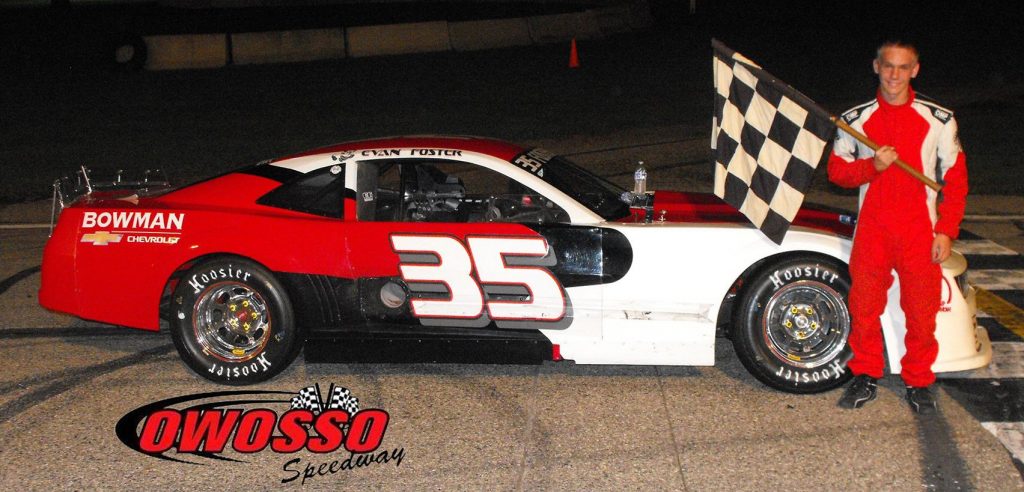 To say that Evan's first year behind the wheel of a stock car was "successful" would be more than an understatement.  This young man exceeded our rookie expectations week after week.  We loved our season in the Sportsman class in Owosso and learned so much there.  Such a great facility, friendly staff, and skilled competition.
BIG CHALLENGE
We knew that to start out strong, we needed to get as much seat time as possible at every opportunity.  Evan was logging almost 100 laps of practice every week. Tuning the car, learning the track, and pushing the limits – challenging himself more every time. It definitely paid off as Evan lead the first 11 laps of the season opening feature!  A great start for this stock car rookie who didn't even have his driver's license yet…
WINNING WAYS
Evan quickly found a way to get to the front almost every weekend.  Learning when it's the right time to make his move to the front, and having the patience needed to be there at the end (even learning to repair his own car on the couple weekends when it didn't work out).
He managed to achieve:
– 2 feature wins
– 1 pole position
– 8 heat wins
– and 8 top 3 feature finishes
All in  his debut rookie season!
DON'T STOP NOW
Ending the season with a 2nd place overall finish in his class at Owosso – and the 'Rookie of the Year' award, Evan clearly showed that he has what it takes to give the next level of racing a solid shot.  So we decided to say goodbye to the Sportsman at the end of our rookie season, and take on the next challenge!
ROOKIE SEASON RESULTS
We're pretty proud of the results below from our first season in a stock car…  Thanks to our team and ALL the awesome fans and support staff at Owosso Speedway that made it all happen!
RACE DATES
RESULTS
May 7
(Finished – 4th in feature; Lead first 11 laps!)
May 14
(cancelled – weather)
May 21
(Heat race WIN! DNF feature – bent tie rod)
Jun 4
(Qualified 2nd of 11 cars – Heat/Feature rained out…)
Jun 18
(Heat race WIN! – finished 2nd in feature!!)
Jun 25
(Heat race WIN! – finished 3rd in feature)
Jul 2
(Another Heat race WIN! – finished 4th in feature)
Jul 9
(5th Heat Race win in a row! – crossed the line 3rd place in feature)
Jul 16
(skipped race weekend – trip to Cedar Point)
Jul 23
(3rd in Heat Race – DNF feature…)
Aug 6
(6th Heat win of the season! – hard fought 3rd place in feature)
Aug 13
(7th Heat win of the season! – well earned 2nd place in feature)
Sep 10
(2nd in Heat race – FIRST FEATURE WIN!!!)
Sep 17
(WON our heat (8th of the season) & WON our FEATURE as well – 2 in a row!!)
Sep 23
Qualified P1 (our first pole position!), took damage early – could only finish mid pack
Sep 24

NATIONALS

– Finished 3rd, had shot @ win on last restart – so close…  GREAT SEASON
Where we raced: